Tribe of Judah TF 2 Chapter Leader & CGA Admin
Staff member
I've gotten a large collection of guns in Borderlands, as I am sure we all have, so why don't we show them off here (NO MODDED/HEXED GUNS please). I'm also going to be writing out some tips and opinions on everything so add your own if you like. My opinions are probably colored by playing as Mordecai. Spoilers are just to make the sections easier to read there are no actual spoilers in them.
Repeaters:
Repeaters can be quite good but I personally prefer using their more manly cousin revolvers
A gunslinger mod with pistol ammo regen a must with some (not all) repeaters geared to eat though ammo. This is my best one, it's easy on the ammo and works well at mid-range.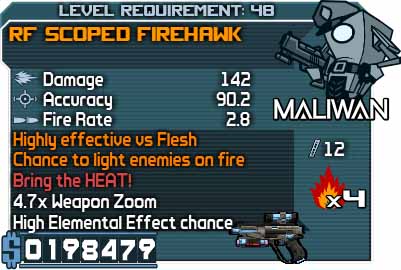 Here are a couple fun bullet eaters.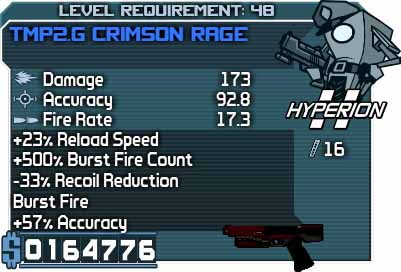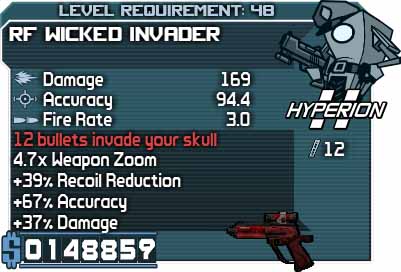 For those who don't know the Invader empties the entire clip when zoomed. The invader has the rarity glitch too it's not white. Both actually fire so fast recoil does not throw them off much.
Revolvers: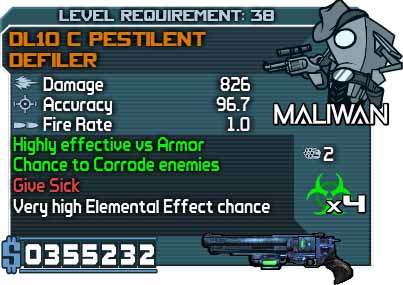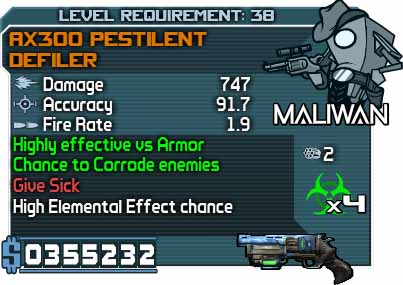 (note above revolver pictures where taken with them equipped actual level of each is 48 not 38)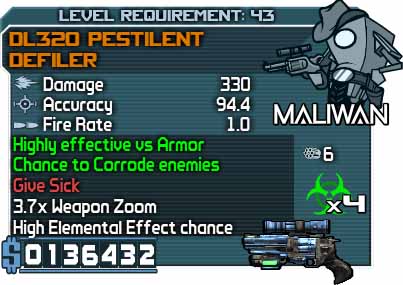 I like revolvers best and I am torn between those three defilers as my main. The first has the most attack power, the second has a higher fire rate and the third has a normal size clip and scope. The corrosive X4 does a bunch of damage so having such high attack power may not be worth it alone. I also think revolvers look awkward with a scope even though it's useful. Whatever one I use these cut through everything but corrosive enemies like butter. Agh I can't decide which to sell!
I also currently have 3 different ammo regen Equalizers although none are as good as the Defilers. Here are the better ones.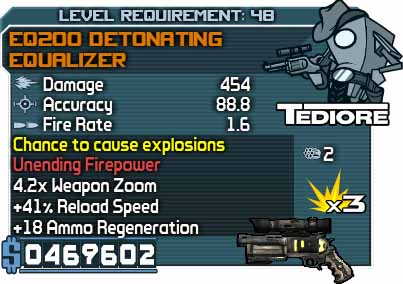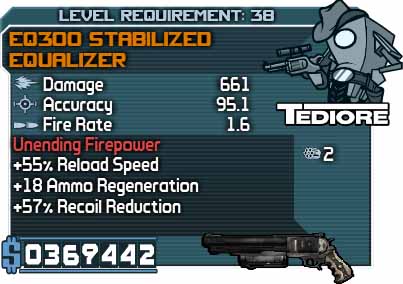 It's also worth mentioning that I've found Madjack...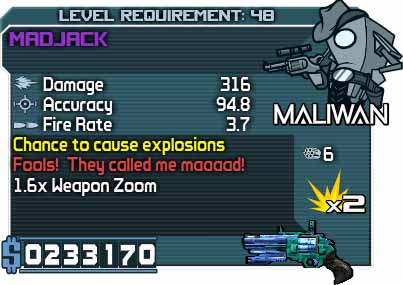 ...a respawning boss drop to still be useful end game. It has a faster fire rate than any other revolver at 3.7 and is quite effective if you spam it using a gunslinger mod for ammo regen. It's primarily good for spiderants with it's spiral bullets hitting their backsides without needing them to turn.
Shotguns: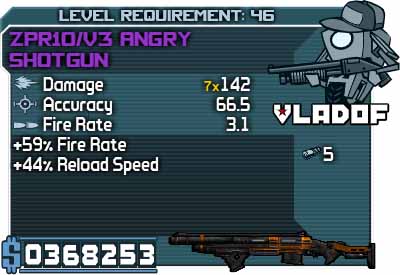 My favorite shotgun. The Crux below is probably more powerful but the fire rate on this one makes it more fun. It's angry ROWR!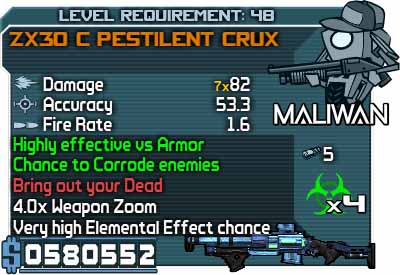 Corrosive weapons are exceptionally good at killing Crimson Lance and this is no exception. Although playing as Mordecai my Defiler is better at it.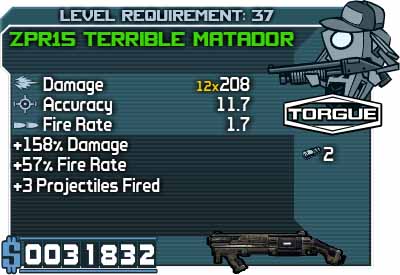 I keep this one around for the sole purpose of killing Skagzilla. Skagzilla is quite large and you fight him point blank. As such high dps to hit his mouth while open is best while accuracy is not needed at all. If I remember right Skagzilla is resistant to corrosive damage so the crux is not an option.
Continued in post below...​
Last edited: