Tribe of Judah Star Wars: The Old Republic Galacti
Originally posted by Aleron in another thread:
Just an update for those that don't check the rest of the forums. We are no longer using Mumble. CGA/ToJ is back to TeamSpeak3
TeamSpeak 3 Server Information
Join us on the Christian Gamers Alliance TeamSpeak 3 server for voice chat with other Christian gamers. You'll need to
download
and install the TeamSpeak 3 client first.
Our TS3 server address is cgalliance.org. Our server uses the default port (9987).
Server Rules
Real-time server info: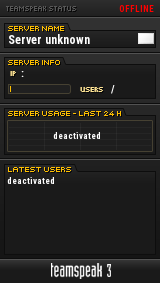 Last edited: